Week Nine
OCTOBER 2OTH - OCTOBER 27TH
ROAD TO THE TOP-END
UFO Roadhouse + Devil's Marbles + Daly Waters + Stuart Tree + Bush Camp + Edith Falls + Darwin + Mindil Beach Sunset Market
EXPENSES (AUD): October 20 - 27, 2016
THINGS OF NOTE REGARDING HIGHWAY 1:
The termite mounds, with which you are by now familiar, have begun to dress themselves in human clothing.
There is a rather high number of burnt out cars on either side of the highway. Try not to think about it.
The road to Darwin is its own kind of fun. It is a plain track that scrubs you clean with its monotony. You have to be a little mad for the road to enjoy a stretch of highway such as this. Never stopping. The soil growing darker and lighter in turns. On and on. Cattle grids disrupt the bitumen. Straight ahead. Turning only to refuel or recharge.
There isn't much along this route. There is the world-famous UFO Roadhouse, a place to stop and ponder the secrets of the universe or just get a cup of coffee.
From there it's a few hundred kilometers to the Devil's Marbles. Those who have the supplies and are keen to take a break can camp here for a small fee. It's a great place to get out, stretch your legs, and contemplate life in a desert climate. Follow some of the trails that weave across the boulder field and the reserve around it. After you've done this for a while you will inevitably begin to feel parched and wonder just how far you would have to drive to get a cold beer and maybe a decent chicken schnitzel.
The answer, if you're headed north, is approximately another 500km to Daly Waters. There isn't a whole lot to do in Daly Waters. You go to the uniquely Australian outback pub, maybe check into the caravan park, or maybe you go to the Stuart Tree. I encourage you to stop in and grab that beer or soda. Press it to your throbbing temples. Put your feet up and relax. You've earned it.
Historical Footnote:
In the late 1850s some hard-headed explorer named John McDouall Stuart got the idea to cross Australia from South to North. He led his first expedition in 1860 making it as far as Tennant Creek. He tried a second time in 1861 and then a third time in 1862 before he reached the top-end. On that final journey Stuart carved an S into a tree near Daly Waters. It is still there to this day. The tree is a dead-nub and the 'S' is more illusory than tangible, yet remain it does.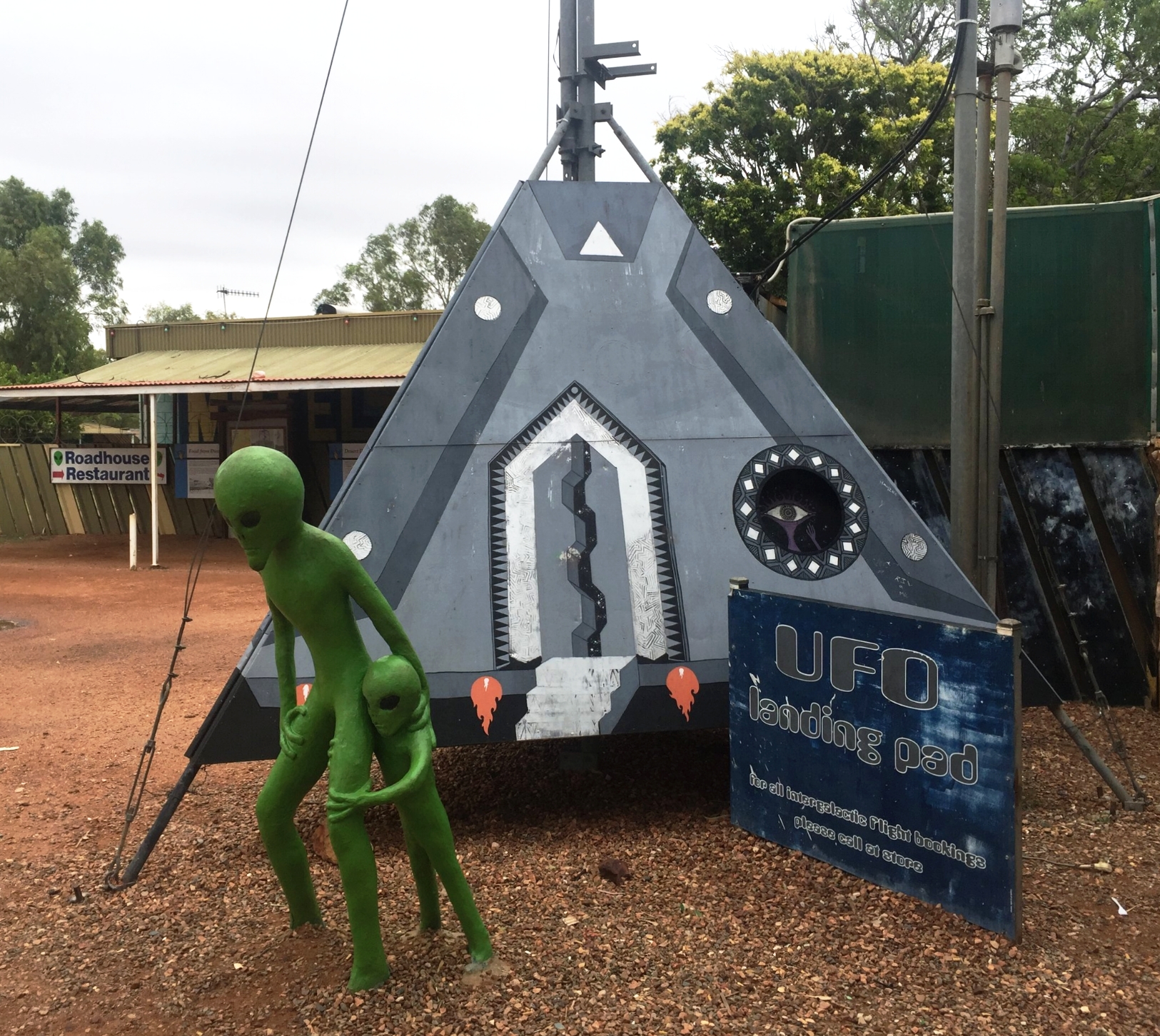 The next day on the road is a little different. The landscape begins to change. The soil is still dry and caked, but it is no longer the vibrant orange of the desert. Cassia gives way to the twisting form of ghost gums. Everything is pale, bleached. The land looks thirsty. You are thirsty. And the temperature is rising.
By the time we reached Katherine we were fully aware of the heat. Beads of sweat adorned each of our foreheads and tension was building. We decided it was best to go in search of a desert oasis so we by-passed Katherine Gorge and beelined to Leilyn-Edith Falls. This little slice of heaven is 20km off the main route and offers a small campground to those looking to stay for an evening or two. The grounds are peaceful and lush. You can spend the day under the trees and their vast network of shade or go for a hike. The large lower pool is ideal for floating, especially if you are fond of sweet-little fishies nibbling at your toes.
We found ourselves drawn to the trails and rough-hewn stone steps that lead to the upper pools. It is a short trek, though tough, and well worth the effort, even late in the day. Leap in, swim out to the waterfall and let it cascade over you, and then try to exit with grace as you grapple with the algae covered rocks at waters edge.
After a few days to decompress and cool off we were ready for the Top-End. The drive from Edith Falls to Darwin is a relatively short one, a few hours at most. We arrived late in the day, just as the suns dipping below the horizon. The air was hot. Sticky. The Wet Season loomed on the horizon and the air was heavy with anticipation.
I was still unwell. We had to take Delphine to the mechanic, again. Darwin doesn't appear to have any free-camps. And then there's the heat. We decided to de-van for a few days. Air-con. Wifi. Delivery. Mindil Beach.